Funded by the Directorate-General for Internal Market, Industry, Entrepreneurship and Small and Medium-Sized Enterprises (DG-Growth), the project aims at integrating UNESCO recognized outstanding cultural heritage into a consumer-friendly platform and series of thematic routes for sustainable tourism development across Europe.
The project will create heritage-based tourism that spurs investment in culture and the creative industries that are community-centered and offer sustainable and high-quality products that play on Europe's comparative advantages and diversity of its cultural assets. It features 34 hidden gems across 19 European countries. The project is being implemented in partnership with National Geographic.
Journeys: Ancient, Romantic, Royal, Underground.
Languages: English, French, Mandarin.
Launched: September 13, 2018.
Download our brochure: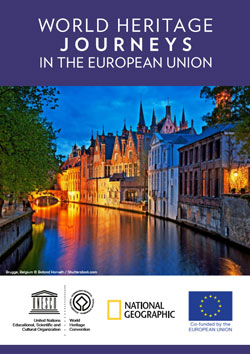 Position:
Editor & Producer
Tasks performed:
Research, content creation/management, and UX.
Multilingual end-user support (UNESCO World Heritage Site managers, journalists, researchers).
---
Technology used: Elebase—a liquid CMS
---
>> Visit World Heritage for more information.